Originally posted Feb 12, 2008 republishing for the 2011 Sweet n' Healthy Blogger Recipe Contest Click here to check it out!
I don't know WHAT came over me tonight. I just wanted something different and apparently, I'm a little obsessed with 'S's. ;~P
This morning I pulled out some tilapia fillets to make Crispy Baked Parmesan Crusted Tilapia. Along side, I was planning to make Sweet Potato Fries but by the time I got home from work, I just wasn't in the mood.
Then I realized I really only eat sweet potatoes one of two ways, fries and baked. Why not try something new! So I experimented and I'm glad I did even if the husband and the toddler weren't fans. Well, that's not quite the truth, neither would even try one so I'm not sure if they would have liked them or not. Oh well more for me. Now I have lunch tomorrow!
Ingredients
2 sweet potatoes
½ of a small onion
4-5 button mushrooms
½ teaspoon curry powder
⅛ teaspoon dried rosemary
Salt & Pepper
½ oz gouda cheese grated
1 tablespoon (7g) real bacon bits
Dried chives for garnish
Non-stick cooking spray
Instructions
Preheat the oven to 400 degrees.
Pierce the skin of the potatoes and bake them for about 45 minutes until they are tender. To give them a jump-start and shorten the cooking time, pop them in the microwave for 5 minutes. Once they are tender, pull them out of the oven and let them cool.
While the potatoes are cooling, sauté the onion and mushrooms over medium heat with a bit of non-stick cooking spray for about 10 minutes until the mushroom start to reduce down. Season the onion mushroom mixture with the curry, rosemary, salt & pepper.
Cut the potatoes in half scoop out the centers leaving the skin with a bit of flesh like a boat.
Mix the potato flesh with the onion mushroom mixture until well blended. Place the mixture in a large zip lock bag. Cut one of the bottom tips off and use the bag to pipe the mixture into the skins.
Top each potato with the cheese, bacon bits and chives. Bake for about 15 minutes.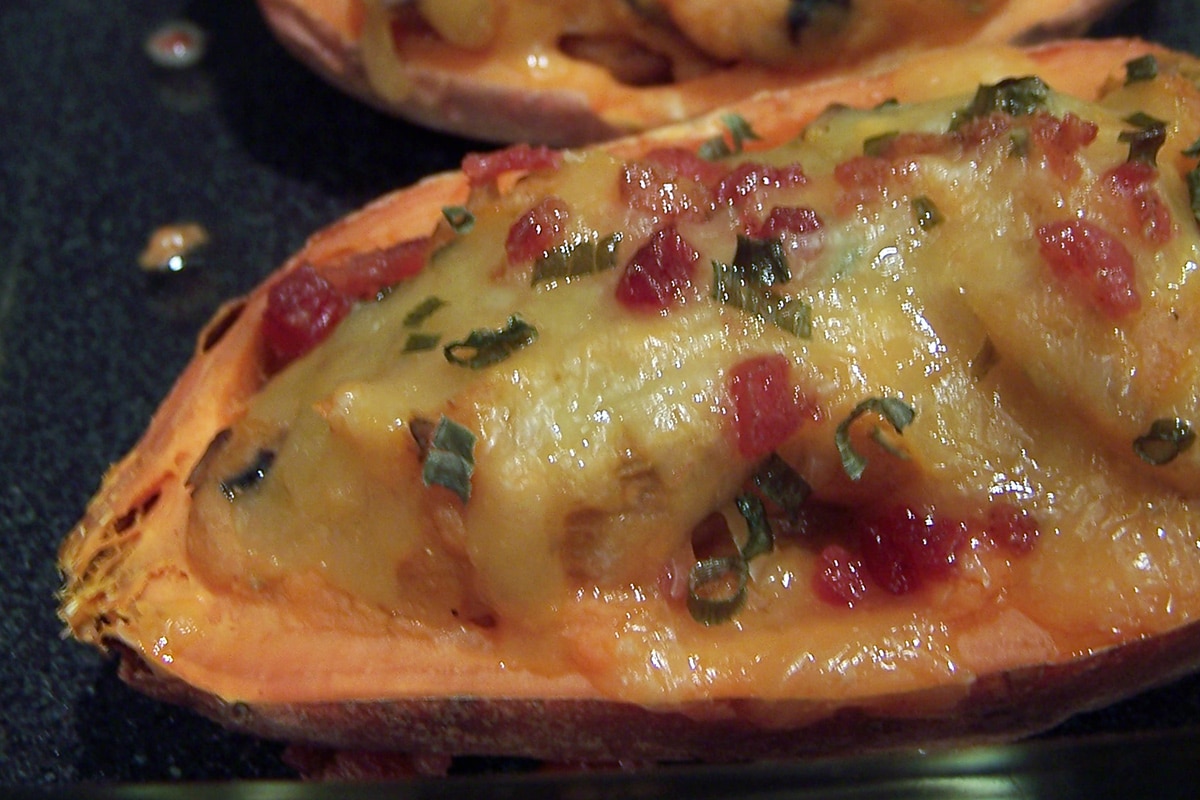 Simple Savory Stuffed Sweet Potatoes
These simple stuffed sweet potatoes are a game-changer for a quick and nutritious meal. Loaded with savory flavor, you won't be disappointed!
Ingredients
2

sweet potatoes

½

of a small onion

4-5

button mushrooms

½

teaspoon

curry powder

⅛

teaspoon

dried rosemary

Salt & Pepper

½

oz

gouda cheese grated

1

tablespoon

7g real bacon bits

Dried chives for garnish

Non-stick cooking spray
Instructions
Preheat the oven to 400 degrees.

Pierce the skin of the potatoes and bake them for about 45 minutes until they are tender. To give them a jump-start and shorten the cooking time, pop them in the microwave for 5 minutes. Once they are tender, pull them out of the oven and let them cool.

While the potatoes are cooling, sauté the onion and mushrooms over medium heat with a bit of non-stick cooking spray for about 10 minutes until the mushroom start to reduce down. Season the onion mushroom mixture with the curry, rosemary, salt & pepper.

½ of a small onion,

4-5 button mushrooms,

½ teaspoon curry powder,

⅛ teaspoon dried rosemary,

Salt & Pepper,

Non-stick cooking spray

Cut the potatoes in half scoop out the centers leaving the skin with a bit of flesh like a boat.

Mix the potato flesh with the onion mushroom mixture until well blended. Place the mixture in a large zip lock bag. Cut one of the bottom tips off and use the bag to pipe the mixture into the skins.

Top each potato with the cheese, bacon bits and chives. Bake for about 15 minutes.

½ oz gouda cheese grated,

1 tablespoon 7g real bacon bits,

Dried chives for garnish
Nutrition
Calories:
178
kcal
Carbohydrates:
36
g
Protein:
5
g
Fat:
2
g
Saturated Fat:
1
g
Polyunsaturated Fat:
0.3
g
Monounsaturated Fat:
0.4
g
Cholesterol:
4
mg
Sodium:
159
mg
Potassium:
654
mg
Fiber:
6
g
Sugar:
8
g
Vitamin A:
24190
IU
Vitamin C:
5
mg
Calcium:
82
mg
Iron:
1
mg