Ever since opening the frozen bag of shrimp to make my Quick Ramen Noodle Lunch. I've been a bit shrimp obsessed. I love brainstorming so I asked myself, what can I do with precooked shrimp that's fun and easy? First, I was going to try a shrimp pasta meal, but the husband nixed the idea, saying, "When have I ever eaten shrimp and pasta together?" OK, then, I'll make something for myself.
So I pulled the good old wonton wrappers out of the freezer and hit the leftover produce in my fridge.
Now, I made these with spinach and carrots because that's what I had on hand but cabbage may have added a bit more crunch. Really, you could put anything you like in these. The wonton is just a vessel for you favorite fillings and I just tried a new way to wrap them, and I must admit, it worked perfectly.
The toddler ate one but he wasn't into them. He's not into shrimp that much.
The husband? Well he wasn't around to try them but he wouldn't like them anyway. Not because they're bad but because he's weird. ;~P my verdict... LOVED them!
3 oz cooked shrimp chopped
1 cup (30g) baby spinach leaves chopped
½ cup (110g) shredded carrots
1 clove garlic grated or minced
about 1 inch fresh ginger root grated or minced
1 green onion stalk diced
16 small wonton wraps
Preheat the oven to 375 degrees.
Mix the shrimp, spinach, carrots, garlic, ginger and onion in a small bowl to make the filling. Let sit for a few minutes to allow the flavors to mix.
Using a tablespoon, place filling in the middle of a wrapper. Fold two opposing corners in. Then using the opposite corner closest to you roll over the filling. Dab the final corner with water and seal. OK, I'm trying, pictures may help!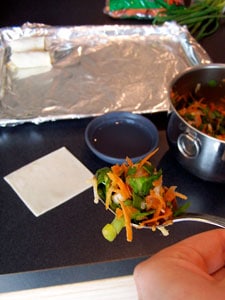 Lay on a aluminum covered cookie sheet sprayed with non-stick cooking spray. Spray tops with a bit more spray. Bake for about 20 minutes, turning once.
I served with a simple dipping sauce made from soy sauce, honey and ground ginger.
Approx Nutritional Information per serving
Servings
Amt per Serving
2
8 mini egg rolls
Calories
Fat
Fiber
WWPs
232
2g
3g
old: 4
new: 6
Sugar
Sat Fat
Carbs
Protein
3g
0g
36g
18g