Recently I've been doing myself a favor and baking extra potatoes when I make dinner. They've been a great addition to my eggs in the morning and now I figured out how to easily use then for lunch!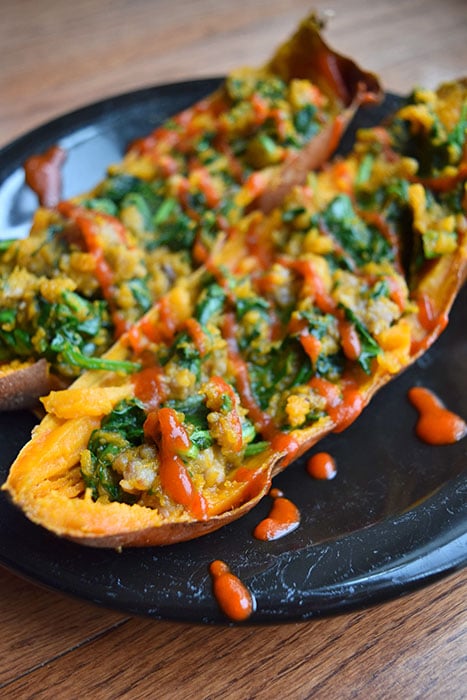 This is another super simple idea with really tasty results. I used some rolled breakfast sausage I've been keeping on hand, but you could totally do this with ground beef or turkey or even something else like leftover like chili.
It's a fun way to use leftovers and transforms the simple potato into a meal.
Here's what I did...
2 oz rolled sausage (The Jimmy Dean kind like this)
1 leftover baked sweet potato
2 big handfuls of raw spinach, chopped (50g)
Hot sauce for drizzling
Over medium heat, brown the sausage in a small nonstick skillet. While it's cooking, cut the potato in half and scoop out the flesh.
Add the potato flesh and spinach to the pan with the sausage and continue to cook until the spinach wilts and everything is heated through.
Scoop the potato and sausage mixture back into the potato skins and top everything with a drizzle of hot sauce.
I ate it with a knife and a fork and had a bite of everything at once. It was a great mix of tastes and textures.
Approx Nutritional Information per serving
Servings
Amt per Serving
1
Entire Recipe
Calories
Fat
Fiber
WWPs
375
13g
9g
old: 8
new: 9
Sugar
Sat Fat
Carbs
Protein
13g
6g
54g
10g