I'm SO excited to be working with Flatout Bread! They reached out to me to host a challenge on Roni's Weigh so we can kick off the new year and it's going to be a blast.
I love being challenged to come up with recipe ideas. I approach it like my own mini "Chopped" competition -- in my basket this week: a Flatout flatbread, frozen blueberries, yogurt and cardamon.
Cardamom is a new addition to my spice cabinet. It was on sale at my local grocery store so I decided to give it a try.
I'm in LOVE! It's warm and intense like allspice, cloves and cinnamon on steroids. It even has an intense mint or eucalyptus element but in a good way.
No worries if you don't have some -- this recipe would work with a pinch of cinnamon, allspice, or even nutmeg. You could even skip the spices and it will still be tasty!
Here's what I did...
2 tbsp balsamic vinegar
½ cup (75g) frozen blueberries
⅛  tsp cardamom
Pinch of kosher salt
1 oz (28g) nonfat plain Greek yogurt
3 oz leftover or pre-cooked chicken breast
Sprinkle of dried basil
Handful fresh spinach leaves
In a small saucepan add the balsamic vinegar, blueberries, cardamom and salt.
Bring to a boil over medium heat.
While waiting, spread the yogurt on the flatbread and top with the chicken.
Once the blueberry mixture starts to boil, mash the blueberries with a fork. Continue to cook until the mixture reduces down and thickens.
Once thickened, pour the reduction over the chicken.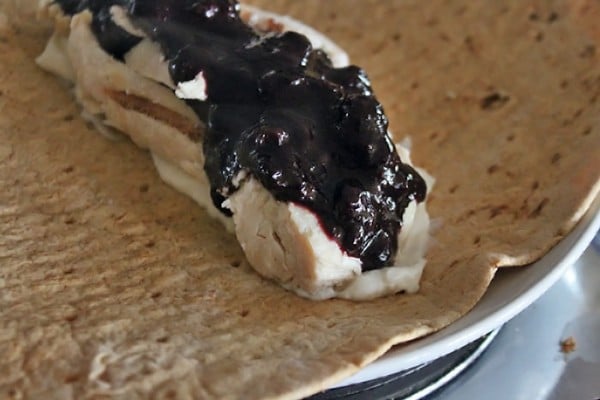 Sprinkle with a little dried basil and top with spinach leaves.
Roll, cut and serve with a side of baby carrots!
So good! And such a fun way to jazz up a boring chicken wrap with new flavors!
Approx Nutritional Information per serving
Servings
Amt per Serving
1
Entire Recipe
Calories
Fat
Fiber
WWPs
310
6g
12g
old: 6
new: 8
Sugar
Sat Fat
Carbs
Protein
8g
1g
32g
39g
Full Disclosure: This is a paid, sponsored post for Flatout bread. All opinions are my own.