Getting creative in the snack department was a big factor in my initial 70-pound weight loss and now that I'm attempting to eat low-FODMAP, I'm rediscovering its powers. There's just something totally satisfying about preparing a snack than grabbing something quick (that I always end up regretting) out of the pantry.
Before I went grocery shopping this weekend I rummaged through my fridge and pantry for low-FODMAP friendly options. I came up with:
Cucumber -- On all safe lists I can find.
Sharp Cheddar (Thanks to Cabot who sent me samples of THIS -- OMG) -- No lactose.
Frozen blueberries -- All lists say safe in modest quantities.
Sunflower seeds  -- All lists say safe in modest quantities.
I put them together to make a plate of awesome! Sometimes the simplest things are the most satisfying.
Here's what I did...
1 mini cucumber, sliced
1 oz sharp cheddar cheese, sliced thin
About ¼ cup frozen blueberries (1 per cucumber slice)
About 1 tsp sunflower seeds (5g)
Dried basil and mint for sprinkling
Top the cucumber slices with the cheese and a frozen blueberry. Sprinkle with sunflower seeds and herbs.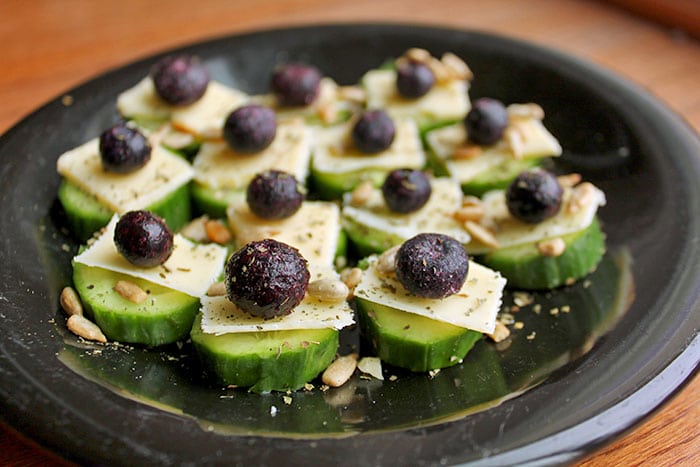 Let it sit for 10 minutes so the blueberries defrost a bit and then squish them down gently with your finger.
Enjoy! It's like the love child of a salad and cheese and crackers. So fun!
Approx Nutritional Information per serving
Servings
Amount per Serving
1
Entire Recipe
Calories
Fat
Fiber
WWPs
160
12g
1g
old: 4
new: 4
Sugar
Sat Fat
Carbs
Protein
3g
6g
4g
9g