My husband is a Chipotle fanatic. If it was up to him we'd be there at least 2-3 times a week for lunch.
I'm over it.
Don't get me wrong, I'm a HUGE fan myself. I usually get the salad or burrito in a bowl and have some strategies for keeping the calorie count at bay. The cost, well,  that's another variable in my let's-stop-eating-out-so-much equation.
So I set out to make a Chipotle-inspired burrito at home using things I can easily keep on hand.
This isn't a re-creation recipe. Your burrito will not taste exactly like a Chipotle burrito but all the same elements are there. I basically used their "formula" and substituted light and easy-to-keep ingredients I had at home.
The result was a super filling, tasty lunch burrito for just over 300 calories, which, when compared to the 1000-calorie Chipotle version, is a steal! Not to mention it's much cheaper to buy the ingredients and use them to make multiple meals at home.
Here's what I did...
3 oz pre-cooked or leftover grilled chicken (I used the kind you can buy frozen in bags)
¼ cup cooked spaghetti squash (I'm baking one every other weekend to keep on hand for quick meals like this -- you could use rice, of course, this is my lower calorie substitute)
¼ cup black beans (I cracked open a can and froze the rest for future burritos)
1 whole wheat flatbread or large tortilla (I used a Fit&Active flatbread from Aldi)
¼ cup salsa
¼ avocado, sliced (for the guac)
Warm the chicken, squash and beans in the microwave.
Nothing needs to be cooked, just heated and/or defrosted.
Layer the chicken, squash and beans on the flatbread.
Top with the salsa and avocado.
Pinch the sides inwards and roll.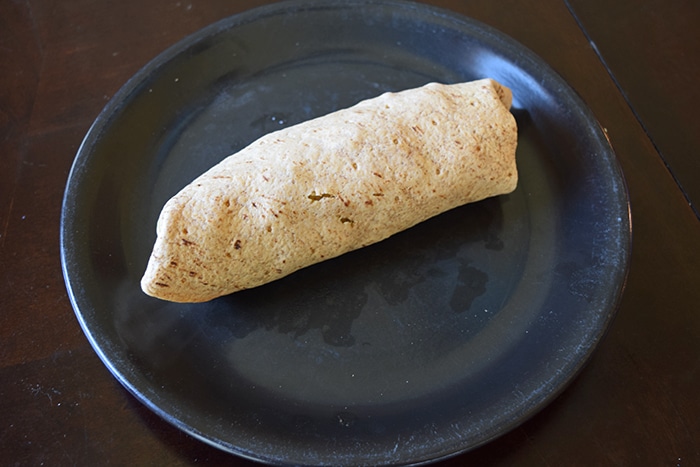 Done!
I cut it in half so you can see the middle. If I didn't need to take a photo I probably wouldn't have.
I was surprised how filling this was for the calories. It was the perfect lunch for me yesterday!
Chipotle is great! But regularly making fun, tasty stuff at home is better and much easier than I think people realize.
Approx Nutritional Information per serving
Servings
Amt per Serving
1
Entire Recipe
Calories
Fat
Fiber
WWPs
320
11g
16g
old: 7
new: 9
Sugar
Sat Fat
Carbs
Protein
3g
2g
38g
33g