Does anyone watch Louie, the show by Louis C.K. on FX?  He's one of my favorite comedians and his show is hysterical -- sometimes in a very wrong way, but I love it. This past week there was a scene where one of Louie's daughters walks in while he's cutting broccoli. She says, "What are we having for dinner?" He replies something like, "Pasta and broccoli." The daughter then makes a yuck sound and Louie simply tells her to get away from him in a very disgusted voice.
The Husband and I looked at each other and burst out laughing because literally that scene plays out in my house at least 5 times a week.
Sometimes I just don't want to deal with it either, so I'll just cook for myself.
That's exactly the situation that resulted in this shrimp dish.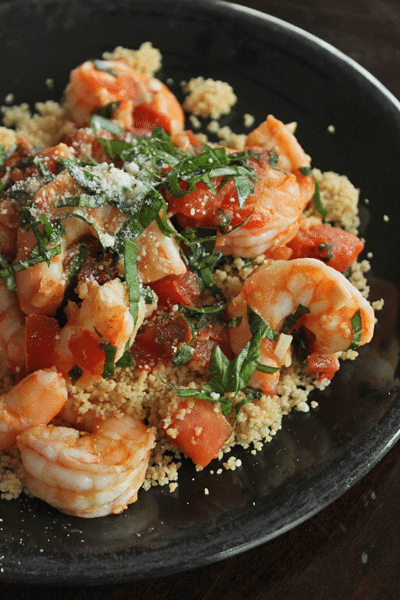 Thursday is farm pickup day and this week there were 2 bags of beautiful, fresh shrimp. SO many possibilities, right?
Not at my house.
If we are having shrimp it's got to be boiled, chilled and served with cocktail sauce.
Don't get me wrong, I love a good shrimp cocktail, but the only way to eat shrimp? I don't think so!
So I pulled out a handful of shrimp just for me to enjoy and boiled the rest.  Here's how I made a quick shrimp dinner for one…
1 tsp olive oil
3 cloves of garlic, minced
1 vine ripened tomato, chopped
About ¼ cup fresh basil leaves, chopped (15 large ones)
6 oz fresh, raw shrimp, shells and tails removed
1 cup cooked couscous
Heat the oil in a small skillet over medium heat and add the garlic and tomato with a pinch of salt. Let the tomatoes sweat a bit before adding the basil and shrimp. Be sure to reserve a pinch or 2 of the basil to top the dish later.
Toss the shrimp, cooking then in the juices from the tomato until pink all around, about 5 minutes total.
Pour the cooked shrimp, tomatoes and all the juices on a pile of couscous and voila!
I mean really, how easy was that? I topped it with a bit more basil and a dash of Parmesan cheese. It was such a pretty dinner, something I would have loved to serve everyone, but they ate their shrimp cocktail, couscous and peas separately on their plates. Hey, at least I got them all to eat shrimp! The 3-Year-Old is finally coming around!
Approx Nutritional Information per serving
Servings
Amt per Serving
1
entire recipe
Calories
Fat
Fiber
WWPs
430
8g
3g
old: 9
new: 11
Sugar
Sat Fat
Carbs
Protein
3g
1g
46g
43g