I ran out of eggs this weekend and because of a nasty ice storm, I didn't make it to the store for my typical weekly shopping trip. The kids are also off school -- AGAIN -- but that's another story.
After the gym and getting the kids all settled in their respective new snow routines, I was ready for breakfast but with no eggs in the house I had to reach for my new backup: Bob's Red Mill 10-Grain Hot Cereal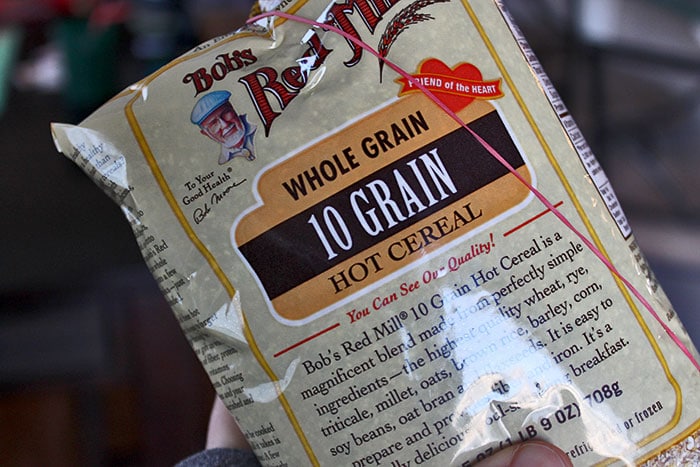 I don't work with Bob's but they do send me sample products from time to time and this was in their latest mailing.
I wasn't too impressed when I opened the box as I'm not a big cereal girl but the first time I made it I was pleasantly surprised. The mixture of grains makes an interesting taste and the texture is very reminiscent of Farina, something I ate a lot as a child.
The first time I made this I used a teaspoon of sugar for sweetness but this morning I decided on a half a banana, which added even more flavor. The banana also added bulk. Speaking of, a serving of this dry doesn't look like much but cooked it really puffs up. Add some fruit and it's quite a large, satisfying breakfast. I really didn't expect to like this as much as I did!
Here's what I did...
¼ Bob's Red Mill 10 Grain Hot Cereal (42g)
¾ cup water
Pinch of salt
1 tbsp almond butter (14g)
½ banana, mashed (50g)
½ cup unsweetened frozen blueberries (70g)
Dash of cinnamon
Heat the cereal, water and salt in a small pot over medium-high heat. Stir until it starts to boil. Add the almond butter and stir to melt it in.
Continue to boil for about 5 minutes until it thickens to your liking.
Remove from heat mix in the mashed banana.  Add the frozen blueberries which will cool the cereal down while they defrost.
Top with a dash of cinnamon.
Enjoy!
Disclosure: This is NOT a sponsored post. All opinions expressed are my own as always. 
Approx Nutritional Information per serving
Servings
Amt per Serving
1
Entire Recipe
Calories
Fat
Fiber
WWPs
310
9g
10g
old: 6
new: 8
Sugar
Sat Fat
Carbs
Protein
10g
1g
49g
10g